Rev. Bernard J. Ezaki, M.Div., M.A.
Assistant Pastor, Notre Dame of Bethlehem Church, Bethlehem, Pennsylvania
Father Bernard J. Ezaki was born in Allentown, Pennsylvania, on January 31, 1957.  He is one of seven children, the fourth child of Dr. Toshio Ezaki and Mary (Vida), parishioners of the Cathedral of Saint Catharine of Siena in Allentown.  (Dr. Ezaki was a prominent surgeon at Sacred Heart Hospital in Allentown.  See the essay on this website entitled The Surgeon's Tongue: Images of Christian Discipline.)
Legally blind from birth, Father was kicked out of the Cathedral School because of his poor eyesight.  After attending Jefferson Elementary School and South Mountain Junior High, he was graduated from William Allen High School in 1975.  Today he holds degrees from Moravian College (Bethlehem, PA), Harvard Divinity School (Cambridge, MA), and St. Charles Borromeo Seminary (Overbrook, PA).
Father Ezaki was ordained to the priesthood on June 4, 1988.  His first year as a priest was spent happily as an assistant pastor at St. Peter's Church in Coplay, PA.  From the fall of 1989 until the spring of 2013, Father resided at Notre Dame of Bethlehem Rectory (Bethlehem, PA) and taught theology to sophomores at Bethlehem Catholic High School, all the while exacting vengeance for having been "asked" to leave the Catholic school system at a tender age.  His first students (Class of 1992) are only now emerging from extensive psychotherapy.
Father himself suffers from an inferiority complex, resulting from his physical appearance.  His mother, he was told, endured morning sickness after he was born.  In addition, a close friend, upon meeting Father's brother John exclaimed, "Oh my!  Your brother is drop-dead gorgeous!  You don't look anything like him!"
In addition, as a result of his prolonged contact with tenth graders, Father's ability to communicate has been somewhat curtailed, and he occasionally lapses into inarticulate grunts and meaningless syllables (e.g. "like," "ah," and "um"). He has, in fact, very limited experience of the real world, having spent fifty Septembers in the classroom, either on one side of the teacher's desk or the other.  As an assistant at the Cathedral in Allentown (spring of 2013 to autumn of 2016), he was noted for his terroristic threats to altar servers.
At age forty-five, Father Ezaki discovered a sentence that changed his life:  "I'm not grateful because I'm happy; I'm happy because I'm grateful."  Ever since then, he is learning that the secret of Christian joy is nothing less than gratitude.  Thus from 2016 to 2021, he was a grateful assistant pastor at Saint Jane Frances de Chantal Church in Easton, Pennsylvania.  From 2019 until 2022, he served as chaplain to Kolbe Academy in Bethlehem, the nation's first faith-based high school for students recovering from drug and/or alcohol addictions.
In June 2021, Father Ezaki became the blissful assistant pastor at Notre Dame of Bethlehem Church, the very place where he had lived as a resident for twenty-four years. However, as of July 2022, he serves as full-time President for Catholic Mission and Identity at his beloved Bethlehem Catholic High School, still residing at Notre Dame of Bethlehem Rectory.  Father has also been blessed with an additional assignment.   Ever since June of 2021, he has been the diocesan director of Courage, an international support group for persons with same-sex attractions who wish to lead lives in conformity with Catholic teaching.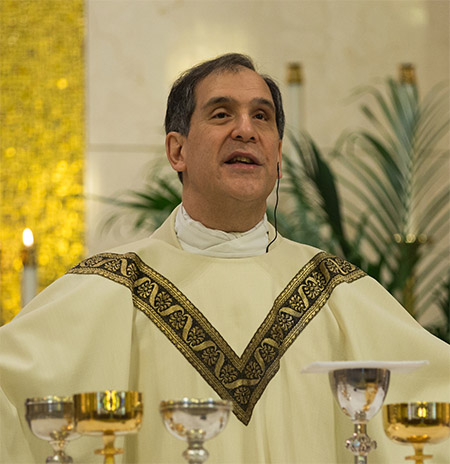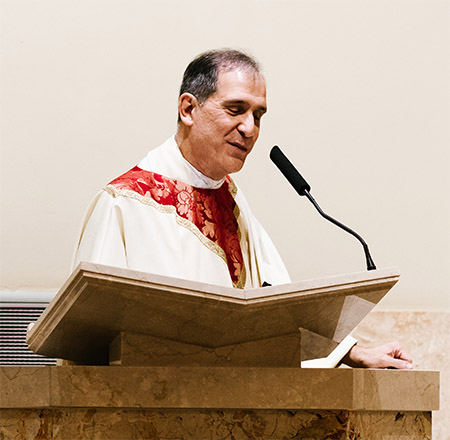 Father Bernard Ezaki speaking at Father David Matthew Anthony's first Mass.